WHITETAIL ACTIVITY FORECAST
Plan your hunt around peak movement times.
---
Get valuable insight on when white-tailed deer in your Hunt Area will be on the move with HuntStand's 7-day Whitetail Activity Forecast.
Proprietary model informed by decades of research from North America's top whitetail biologists.
Analyzes over a dozen variables to show you estimated deer activity by the hour.
Unlock the most extensive Rut Map in the country.
---
Details the peak rut throughout 98% of the whitetail's range in the United States. With data acquired directly from whitetail biologists in each state, it's the most accurate and extensive Rut Map available.
Data is included for over 4,240 counties, parishes and other geographic designations.
Includes important dates for pre, peak, and second ruts.
Gathered directly from state wildlife agencies and whitetail biologists.
MONTHLY SATELLITE IMAGERY
Monthly imagery, from space to your fingertips.
---
HuntStand is the first app to offer monthly satellite imagery—updated each month with years of historic imagery. This layer is lower resolution, but trades clarity for recency.
Perfect for viewing:
Timber thinning and clear cuts
Flooding, fires, and burns
Agricultural activity
Snow and ice cover
Find habitat most suitable for white-tailed deer.
---
Using decades of observational data combined with advanced satellite measurements and artificial intelligence, our terraPulse Whitetail Habitat Map estimates an area's suitability for whitetail at a granular level.
Perfect for e-scouting and prioritizing new areas to hunt.
Great for finding public land with habitat suitable for whitetails.
NATIONAL AERIAL IMAGERY
View high-resolution imagery from above.
---
High resolution aerial imagery from the USDA Farm Services Agency, often more detailed and up-to-date than other available aerial imagery layers.
High-resolution aerial imagery.
Updated every 1-2 years on a state-by-state basis.
Provided by the National Agricultural Imagery Program.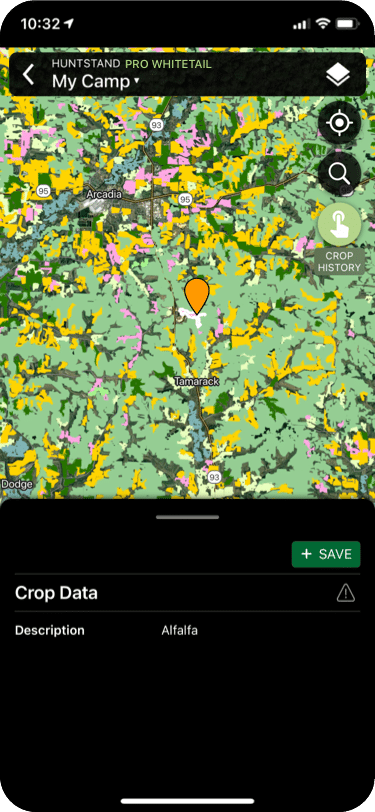 Locate top food sources for white-tailed deer.
---
Locate areas with top food sources for whitetails. Browse annual crop data across the continental United States showcasing 134 different crops at a granular level.
Pro Whitetail
$69.99 USD ($5.83/month billed annually)
---
Includes all HuntStand Pro features plus powerful tools made specifically for whitetail hunters.
All HuntStand Pro maps and layers
All HuntStand Pro features and toolsets
7-Day Whitetail Activity Forecast
Peak Whitetail Movement Times
Annual Rut Map (U.S. only)
Whitetail Habitat layer (U.S. only)
Pro
$29.99 USD ($2.49/month billed annually)
---
Access Pro mapping layers, hunting tools, and an ad-free experience for the United States and Canada.
Property boundaries
Property ownership data (U.S. only)
Monthly Satellite Imagery
Detailed hunting & public land maps
National Aerial Imagery Layer (U.S. only)
3D mapping tool
Stand Reservations
Unlimited offline maps
Make your Mark
---
HuntStand is the #1 hunting and land management app in the country. It combines advanced mapping tools with powerful map layers to allow users to create and share the best hunting maps possible.
Upgrade to Pro Whitetail